Anyone of the Momochi clan can join, just talk to Tibs, anyone else, talk to Tibs.
Description
Edit
Shotan, literally meaning redemption, is the village that holds the Momochi clan, it is held between two mountains in the land of fire, it's location is secret, it's walls are rather large, and it has a major guard system lead by these 5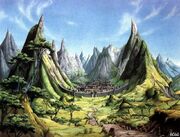 The village was founded by Tiburan Momochi, in the beginning of the village he lead everything, now, however, he leaves a council of seven Momochi to deal with the going ons of the village, he himself is too busy. Shotan is allied with several villages, the leaf village, the sound village, and Akumu.
After Shotan was founded it quickly became rather large and successful in trading and agriculture, after a while Akumu was attacked, so Shotan held Uchiha refuges for a while until Akumu was rebuilt, it now holds several elite sound nin who train the Momochi nin in water ninjutsu.
Ad blocker interference detected!
Wikia is a free-to-use site that makes money from advertising. We have a modified experience for viewers using ad blockers

Wikia is not accessible if you've made further modifications. Remove the custom ad blocker rule(s) and the page will load as expected.